Spend a few cozy hours on the Aeschi Christmas Path. We tell you the Christmas story with six lovingly prepared pictures accompanied by text. From 5 p.m., lanterns and lights will show you the way, which will take you about an hour to complete. The Christmas Path is open for you from the end of November to the beginning of January.
Opening times for the Christmas Path: from November to January
Lighting: daily from 5 p.m. to 10 p.m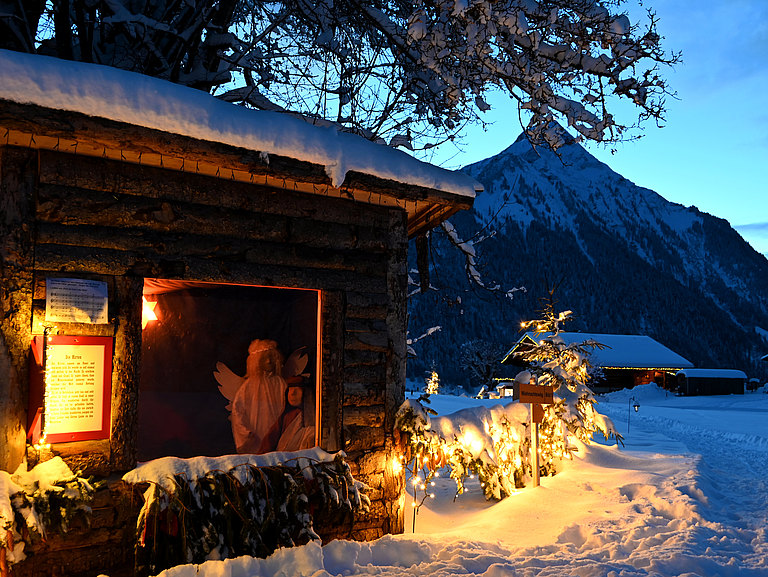 Behind the scenes at the Christmas Path/Wiehnachtswäg Aeschi there is always a lot of hard work going on and commitment from numerous people. Many years ago, the Aeschi Parents' Association was able to convince the other Aeschi associations of the idea of having a Christmas Path. It was opened for the first time in Advent 2010. The result is a joint product and a beautiful collaboration between the clubs and private individuals of Aeschi. The Aeschi Christmas Path is now a wonderful community event.
OK Wiehnachtswäg Aeschi
Peter von Känel Präsident, Infrastruktur, Holzarbeiten, Weg
Jakob Zaugg Infrastruktur, Holzarbeiten, Weg
Ruedi Mürner Stromwesen
Käthi Eymann Beizli, Gastronomie
Susanna Christen Gestaltung, Einrichtung, Dekoration
Aeschi Tourismus, Elea Hiltbrand Sekretariat, Werbung, Medienarbeit
Marc Schläpfer Finanzen
Wiehnachtswäg Aeschi
c/o Aeschi Tourismus
Scheidgasse 8
3703 Aeschi b. Spiez
www.wiehnachtswaeg.ch
info@~@aeschi-tourismus.ch
T 0041 33 654 14 24
Would you like to support the Aeschi Christmas Path with a donation?
We look forward to transferring your contribution to:

IBAN: CH44 0878 4044 8288 4019 3
Wiehnachtswäg Aeschi
3703 Aeschi b. Spiez